WELLINGTON — Soaring house prices in Auckland, New Zealand's largest city, are prompting growing calls for cuts in immigration, which is running at record levels.
It is not only politicians and commentators that are talking about cutting the number of immigrants — even the central bank has joined the chorus, alongside one of the country's largest commercial banks. As a result, immigration is likely to be a hot issue ahead of next year's national elections, when a populist political party with a history of anti-immigration rhetoric could grab the balance of power.
A Newshub Reid Research poll released on Tuesday showed that 60% of the 1,000 people surveyed agreed that the government should let fewer immigrants into New Zealand. But public anti-immigration sentiment has not reached the levels reflected in Britain's recent vote to leave the European Union or the rise of Republican presidential candidate Donald Trump in the U.S. This is largely because the local economy escaped the worst fallout from the global financial crisis and has since been relatively stable, despite a slowdown over the last year.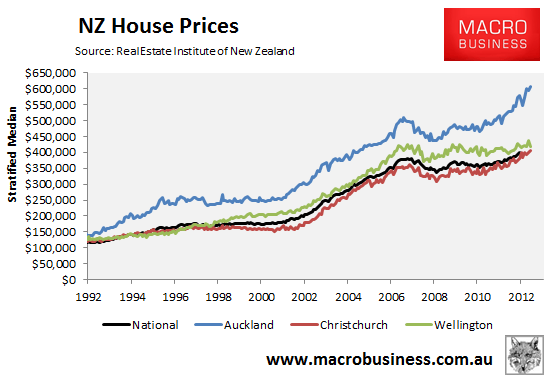 Source: macrobusiness.au
But a shortage of housing in Auckland has led to a five-year surge in prices to nearly 1 million New Zealand dollars ($721,300) for an average home. Reports of Auckland families living in cars and garages as rents soar could pose a threat to the center-right National Party's hopes of winning a fourth consecutive election next year.
Nearly half of new immigrants settle in Auckland, where 40% of the local population of 1.4 million was born overseas. Nationally, a quarter of the 4.5 million population was outside New Zealand, a level slightly below that of neighboring Australia.
The central bank, the Reserve Bank of New Zealand, this month called on the government to consider cutting the level of immigration as part of the solution to the Auckland housing crisis.
"We cannot ignore that the 160,000 net inflow of permanent and long-term migrants over the last three years has generated an unprecedented increase in the population and a significant boost to housing demand," deputy governor Grant Spencer said.
David Hisco, chief executive of ANZ New Zealand bank, also said the time had come to review the number of immigrants.
"Immigration has been great for New Zealand. We are a harmonious, diverse and inclusive society. But Auckland's housing, roads, public transport and schools are struggling to cope," he said.
"Let's have an honest and sensible debate about immigration using facts rather than prejudice to see if we should push the pause button."