Hong Kong (10/12).   In a near miss Hong Kong Police bomb disposal unit defused ready made IED bombs on school grounds late afternoon today.
Bomb disposal officers in Hong Kong defused successfully two home-made devices containing 10kg of high explosives found in school grounds and which were designed to kill large numbers of people. The bombs were complete, fully functional and linked to mobile phones. Links to the arrested terror cells are still investigated.
The Improvised Explosive Devices (IED) contained 10 kilograms of high explosives with one of the devices served as a detonator and booster. The second device is an ammonium nitrate bomb. The bombs included a large amount of nails to serve as shrapnel to maim and kills. Two mobile phones connected to circuit boards were believed to be used as detonators.
According to police the fragmentation range is up to 100 meters. Police closed section of the road between Kennedy Road and Stubbs roads. The devices were seen under a school building which was supported on pillars on a slope.
A school janitor of the Wah Yan College Hong Kong in Wan Chai discovered the bombs at late afternoon today.
The other explosive was hexamethylene triperoxide diamine (HMTD), an explosive routinely found in suicide bombings are believed were home-made.
HMTD is a common source of injury among amateur chemists, particularly finger amputations. Most of these injuries are caused by small amounts of HMTD that inadvertently detonate in proximity of fingers, since small amounts (grams) are generally not powerful enough to amputate fingers from distances larger than 5 – 10 cm
A police source said the force believed the devices were not targeting anyone at the school and had just been hidden there temporarily. Police is currently investigating if a connection to arrested terror cell exists and if the chemicals which were recently stolen from the university campuses match the bombs disarmed.
Todays discovery followed earlier reports of police discovering 20 types of chemicals were reported missing from PolyU in Hung Hom, including 2.5 litres of concentrated sulphuric acid; 1kg of sodium metal; a small amount of zinc cyanide; sodium arsenite; hydrochloric acid; and DDT, an insecticide known for harmful environmental impacts.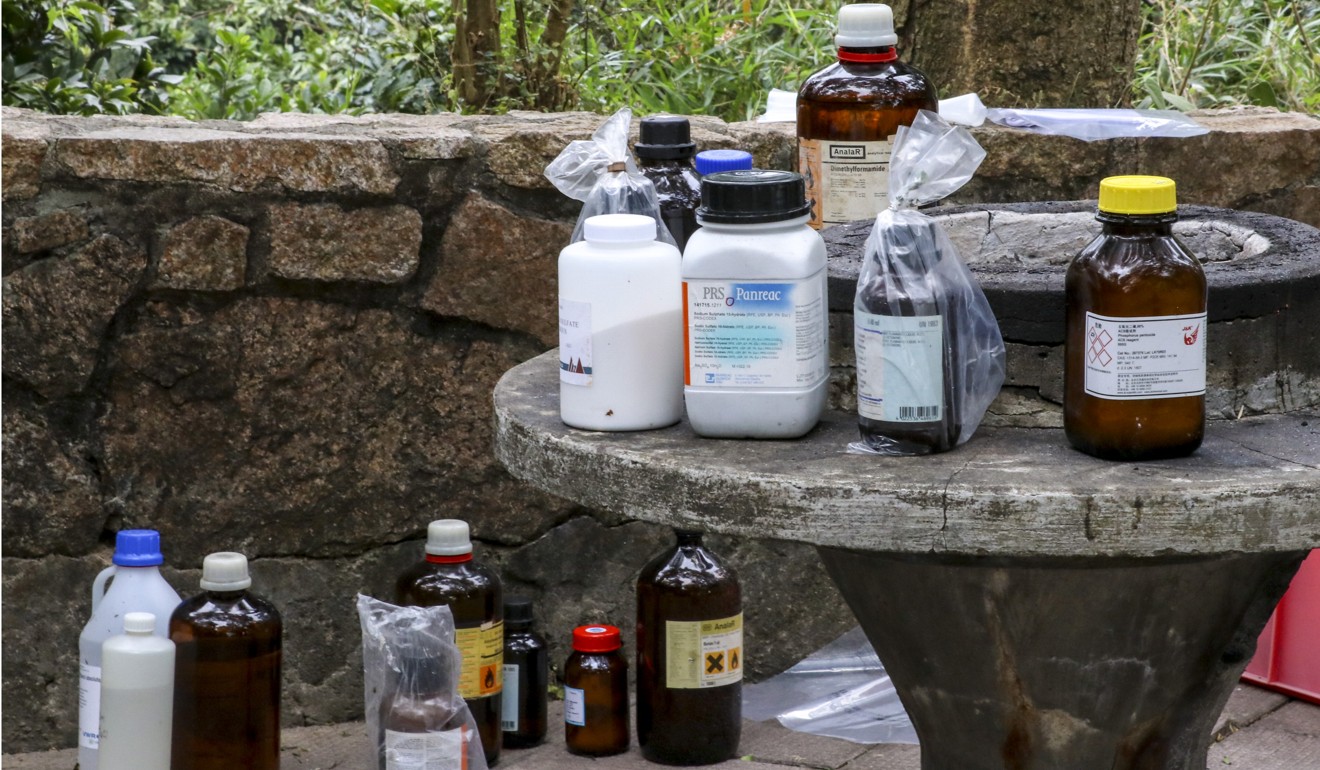 Chinese University is said to have lost about 80 litres of concentrated nitric acid, 17.5 litres of concentrated sulphuric acid, and 2.5 litres of hexane.