Environment Canada says a wind warning has ended for Metro Vancouver, but heavy rain may still occur overnight as part of a massive storm passing through the South Coast.
EC_BCweather @EC_BCweather : Howe Sound is starting to blow now. Pam Rocks gusting to 91 km/h out of the north as outflow picks up ahead of#BCStorm
The storm has brought high winds, downed trees in several neighbourhoods in Metro Vancouver and led to power outages across the South Coast.
Potentially damaging winds are still forecast for parts of the region as Environment Canada continues with wind and rainfall warnings.
BC Hydro continues to deal with outages that have gone up and down in number throughout the day, impacting between 10,000 and 30,000 customers at a time.
Currently there are around 6,000  customers in the Lower Mainland, Sunshine Coast and Vancouver Island still without power.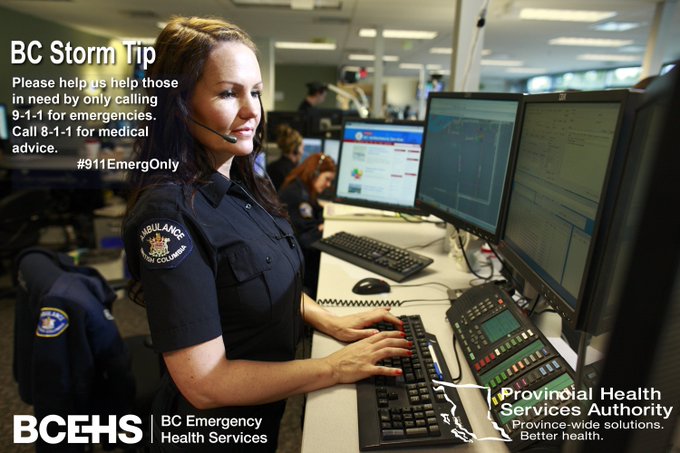 Simi Heer says additional crews from the interior were called in ahead of the storm to provide support in areas that are expected to see the most damage.
The storm on Friday caused outages for 190,000 customers at its peak but crews working overnight restored power to the bulk of homes by Saturday morning, while residents in the Comox Valley have been placed on a boil water advisory.
Heer says customers should be patient if they lose power and only call emergency services if they see downed wires.
Meanwhile the City of Vancouver has made extra shelter spaces available due to the extreme weather alert for the city as has Victoria.
✔@CityofVancouver : Additional homeless shelter spaces are open tonight in Vancouver during #BCStorm. Pls share the information.http://ow.ly/GB6n305drXY 
BC Ferries says it expects all operations to return to normal by Sunday morning and will add an additional round-trip leaving at 8 a.m. PT from Swartz Bay and returning at 10 a.m. from Tsawwassen.
Cancellations and closures
Vancouver:
Stanley Park was closed at 8 p.m. PT Saturday, but re-opened just before midnight.
Playland's Fright Nights at the P.N.E.
Victoria:
Ross Bay Cemetery.
Beacon Hill Park.
Banfield Park.
Highrock Park (Esquimalt).
Saxe Point Park (Esquimalt).
Rockcrest Park (Esquimalt).
Delta:
No beach access.
Delta Nature Reserve.
Ladner Harbour.
Fred Gingell Park.
Watershed Park.