Prime Minister Justin Trudeau has joined an emotional vigil to honour the victims of a crash in Canada in which a truck collided with a bus carrying a youth ice hockey team.
Fifteen people were killed and another 14 injured in the tragedy, which happened on Saturday near Tisdale in Saskatchewan.
The bus, carrying the Humboldt Broncos to a play-off game against the Nipawin Hawks, had 29 people on board, including the driver, when it crashed at about 5pm local time (midnight in the UK) on Highway 35.
Hundreds of people including National Hockey League (NHL) players attended the vigil at the Elgar Petersen Arena, home of the Humboldt Broncos club at the centreof one of the worst disasters to hit Canada's sporting community.
"Were here behind you. We will be here for you," Rob Muench, mayor of the small farming town of Humboldt in Saskatchewan province, told the gathering.
"We will get through this."
In a message released on Sunday evening, the Queen said: "Prince Philip and I were saddened to hear word of the crash involving the Humboldt Broncos hockey team.
"Our thoughts and prayers are with those who have lost so much, with their families and with all Canadians who grieve with them at this difficult time."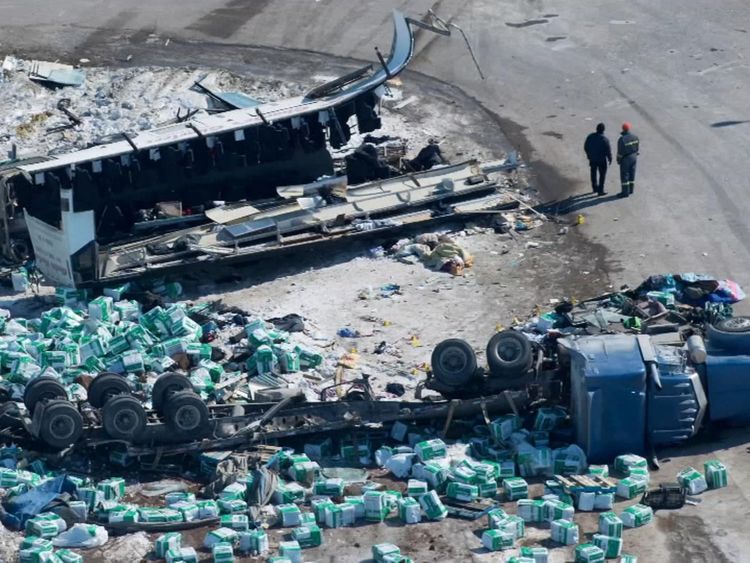 My big little brother, Darcy. The tears just keep coming… pic.twitter.com/HyhpQ4PIhe

— invisigirlonfire (@DebbieJayneC) April 7, 2018
In other tributes, the tearful head of the Saskatchewan Junior Hockey League Bill Chow said: "The worst nightmare has happened."
On Twitter, @DebbieJayneC said her brother, Broncos head coach Darcey Haugan, "didn't make it".
Broncos captain Logan Schatz, 20, was also killed alongside teammates Adam Herold, 16, Jaxon Joseph, 20, Xavier Labelle, 18, Logan Hunter, 18, and Stephen Wack, 21.
Tyler Bieber, a local radio announcer, was also among the victims.
Jaxon Joseph was described as having a "positive energy".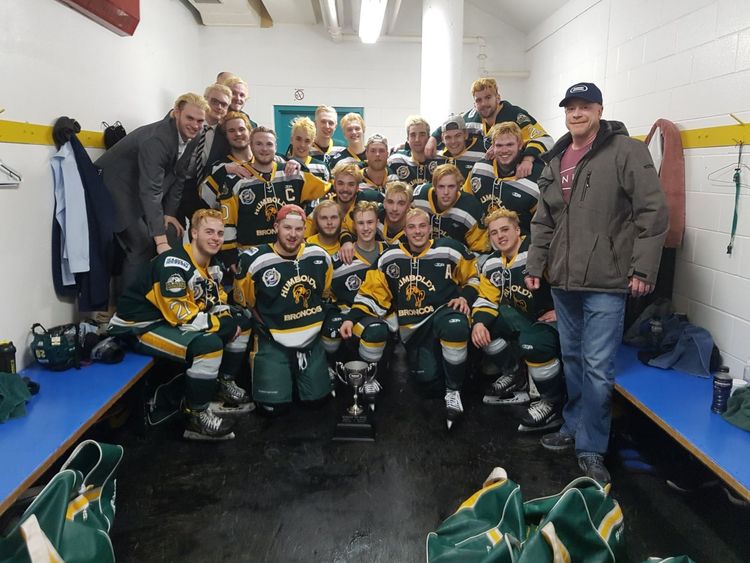 His former coach Blaine Neufeld said: "Something particular about Jaxon was that he had a particular smile. He lit up the room.
"His positivity, his excitement, his energy, his work ethic, brought a positive energy and experience to the guys."
Paul McAvoy, who used to play alongside him at Surrey Eagles, said: "He made a tremendous impact, not only on the ice, as a person in the locker room."
Adam Herold's former manager John Smith said he was "one of the finest young men I had the pleasure of managing".
He added: "The world lost a fine upstanding young man."
The president of Logan Hunter's former club, Kevin Porter, said he had a "great sense of humour, always had a smile on his face".
Aerial footage from the scene showed the bus on its side, its roof peeled back and its front end destroyed.
The truck was also on its side nearby, with its cargo scattered across the road.
Derek Patter, Greyson Cameron and Nick Shumlanski were among those hurt.
Another player, Ryan Straschnitzki, suffered a severe back injury, said his father Tom Straschnitzki.
"He's alive and breathing, and from what we know he has a broken back, and as of now, can't feel anything from his waist down.
"I think he's still in shock, still asking how everyone is and who perished and who didn't."
A GoFundMe page to raise money for families affected by the crash had raised £1.5m just 24 hours after it was created.
"An entire country is in shock and mourning," Prime Minister Justin Trudeau said.
"This is every parent's worst nightmare. No one should ever have to see their child leave to play the sport they love and never come back."
Police said the truck driver was detained but later released.
Officers added it was too early to say what the cause of the crash was.