Deputy Greens leader Larissa Waters is quitting parliament over a citizenship issue today, just days after Scott Ludlam also resigned for the same reason.
Waters was born in Canada, but moved to Australia at a young age. She still holds dual citizenship with Canada.
Waters' Australian parents were studying overseas and came to Australia. She grew up in Brisbane but has not returned to Canada since she was 11 months old.
Shes said she took "full responsibility" for failing to disclose the details until now.
Greens senator Larissa Waters announces her resignation from federal parliament over her duel Canadian-Australian citizenship. Picture: SKYSource:SKY
"I apologise wholeheartedly to all those who have supported me and helped me to become a representative for the wonderful people of Queensland over the last six years," she said.
She said it was with "great shock and sadness" that she made the discovery she was still a citizen of Canada.
"I left Canada as a baby, born to Australian parents studying and working briefly in Canada before they returned home," she said.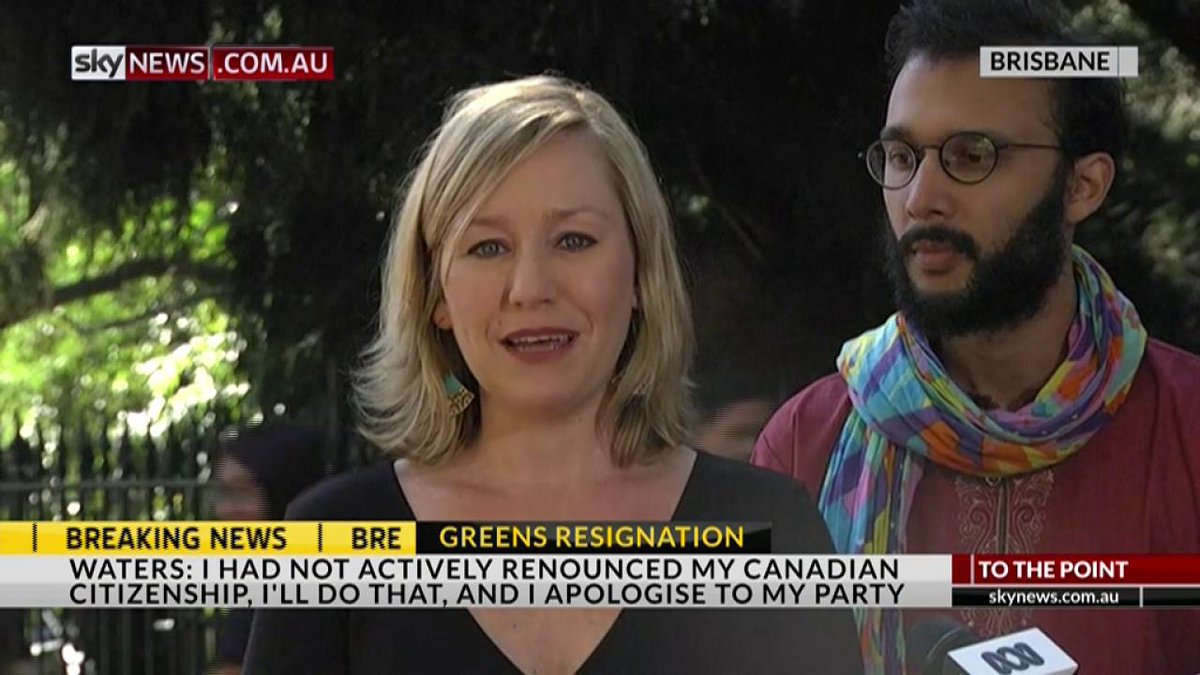 "I have lived my life thinking that as a baby I was naturalised to be Australian and only Australian, and my parents told me that I had until age 21 to actively seek Canadian citizenship. At 21, I chose not to seek dual citizenship, and I have never even visited Canada since leaving at 11 months old.
Greens Senator Larissa Waters arrives with her partner Jeremy Gates and their daughter Alia Joy to announces her resignation in Brisbane. Picture: AAPSource:AAP
"However after Scott's shock discovery, I immediately sought legal advice, and was devastated to learn that because of 70 year old Canadian laws I had been a dual citizen from birth, and that Canadian law changed a week after I was born and required me to have actively renounced Canadian citizenship.
"I had not renounced since I was unaware that I was a dual citizen.
"Obviously this is something that I should have sought advice on when I first nominated for the Senate in 2007, and I take full responsibility for this grave mistake and oversight. I am deeply sorry for the impact that it will have."
Australian Greens Senator Larissa Waters breastfeeds her eight-week-old baby Alia Joy during a division in the Senate chamber at Parliament House in Canberra. Picture: AAPSource:AAP
Greens leader Richard Di Natale tweeted that he was "gutted" by the news.
Her resignation means the Greens will be down two votes in the Senate for now.
It could possibly make it easier for the Turnbull Government to pass its legislation.
Waters was elected to the Senate in 2010 and made world headlines as the first woman to breastfeed in Australian parliament.
Her resignation comes after Mr Ludlam was forced to resign after it emerged he held dual citizenship in New Zealand.
She is the second Greens senator to stand down in a week for the same reason.
Greens Senator Larissa Waters and her baby in Senate Chamber at Parliament House in Canberra. Picture Kym SmithSource:News Corp Australia
Mr Ludlam announced his resignation from federal parliament after finding out he was improperly elected more than a decade ago.
Mr Ludlam said it was recently brought to his attention that he holds dual citizenship of Australia and New Zealand.
Under section 44 of the constitution, that makes him ineligible to hold elected office.
Senator Ludlam labelled it a "ridiculous oversight".
"I apologise unreservedly for this mistake," he said in a statement on Friday last week.
"This was my error, something I should have checked when I first nominated for preselection in 2006."
Scott Ludlam (right) with Greens Leader Richard Di Natale (centre) and Larissa Waters (left). Picture: AAPSource:AAP
Instead of going through protracted legal proceedings, he resigned as a senator for Western Australia and co-deputy leader of the Australian Greens.
Senator Ludlam was born in Palmerston North in New Zealand and left the country with his family when he was three.
He settled in Australia not long before his ninth birthday, before being naturalised when he was in his mid-teens.
"(I) assumed that was the end of my New Zealand citizenship."
"It is entirely my responsibility — it wasn't the way I was hoping to go out."