When Myles Shumlanski picked up his phone late on Friday afternoon, his son's voice – frantic and hysterical – rang through the line. "The bus was in an accident," Nick Shumlanski screamed.
The younger Shumlanski, who is 20, had been on the Humboldt Broncos team bus as the junior hockey team headed to a high-stakes playoff game against the Nipawin Hawks in the Canadian province of Saskatchewan.
Myles Shumlanski rushed to the scene of the crash, where one of the worst disasters ever to strike Canada's sporting community was unfolding. He found his son standing, miraculously. Nearby lay the bus, unrecognisable after much of its roof was torn off. A semi-trailer lay overturned in the snow-covered fields that lined the highway.
"As soon as I came I knew that it was a disaster," Shumlanski told the Regina Leader-Post. "It was a pretty devastating sight."
The Royal Canadian Mounted Police said 29 people were on the bus when it collided with a semi-trailer on a rural highway 200km (124 miles) north-east of Saskatoon. The crash left 15 people dead and more than a dozen injured, plunging hockey-crazed Canada into shock and mourning.
Nick Shumlanski appeared to be one of the few kids who was able to walk. "It was chaos," his father said.
Some people were trapped under debris, unable to move, and Shumlanski worried that others were stuck in the wreckage. Everyone seemed to be reeling from shock, he said. After putting his son in his car he returned to the scene, joining passing motorists who had stopped to help in the long minutes before emergency responders arrived.
"People were getting blankets," he said. "You were taking your jackets. You were doing anything to cover these boys. They were in snow and ice and it was very cold … they were in very bad shape."
News of the crash shook Canada. "An entire country is in shock and mourning," Prime Minister Justin Trudeau said in a statement. "We are heartbroken knowing many of those we lost had their entire lives in front of them. We grieve with those facing news no parent or family should ever have to face."
As the team's players hail from across western Canada, ranging in age from 16 to 21, reports of the crash sent parents from nearby provinces rushing to the scene, fearing the worst.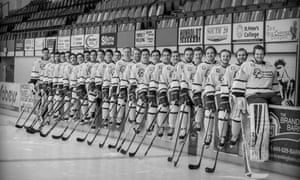 Condolences poured in from across the country and around the world, including the hockey world in which long bus journeys in brutal winter conditions are a mainstay.
Saskatchewan native Mike Babcock, now coach of the Toronto Maple Leafs NHL team, fought back tears as he described a horrific accident. "It's got to rip the heart out of your chest," he said.
Police said it was too early to determine the cause of the collision. After detaining the truck driver, police released him and provided psychological support.
In Humboldt, the close-knit farming community of 6,000 where the team played, the Broncos' home arena was turned into an impromptu crisis centre, bringing together mourners, fans and locals. The stairs of the arena became a makeshift memorial, with flowers placed between railings wrapped in the team's colours, yellow and green.
People grieved at the arena on Sunday, laying flowers and jerseys in a makeshift memorial at the entrance and later gathering inside to mourn the deaths.
Trudeau visited the injured in hospital and then attended the vigil. Trudeau sat among the crowd with his 11-year-old son, Xavier, a hockey player.
Among more than a dozen injured in the crash, some started to report progress on Sunday. One father said he had been sent out by his son on a midnight run for McDonald's chicken nuggets. Team officials said one player had been released from hospital.
While police had yet to release the names of those killed in the crash, social media lit up with tributes to those reportedly killed: 10 players, the driver of the bus, two coaches, a volunteer statistician and a play-by-play announcer.
They included Stephen Wack, 21, a defenceman who was remembered as adventurous, ambitious and loving, and Adam Herold, described as an upstanding young man who at 16 was one of the team's youngest players. Xavier Labelle, 18, was remembered as a top student and flourishing piano player. Brody Hinz, 18, adored the team and spent his free time volunteering to compile statistics.
"This is truly a dark moment for our city and our community and our province," said Rob Muench, mayor of Humboldt, on Saturday, sporting a green and yellow Broncos jersey.
Hours after he was called to the scene of the accident, Shumlanski found out he was among the lucky ones – in what one doctor called a miracle, his son had only a few broken bones.
As he waited in the hospital, Shumlanski had watched as teammates came together to support each other and grimly tally those who had not survived.
"They broke down," he said. "When you're playing on a team like that, they're brothers. They're not teammates, they're brothers."